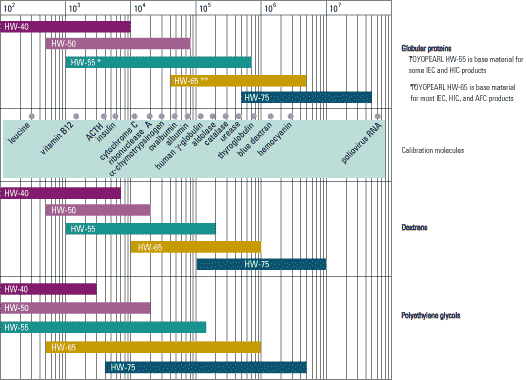 The main applications of size exclusion chromatography are desalting of the feedstock, removal of aggregates in a final polishing step and virus purification. In general it can be used to fractionate and purify synthetic and biological polymers, such as proteins, polysaccharides and nucleic acids based on size. The technique is generally combined with others that further separate molecules by other characteristics, such as pI, charge, and affinity for certain compounds and is typically used as a polishing step.
TOYOPEARL SEC Resins 
TOYOPEARL and TSKgel chromatography media are polymer based macroporous resins for biopurification. Their rigid polymer backbone has better pressure-flow properties the most other commercially available materials. This simplifies column packing and allows for higher operating velocities thereby increasing throughput and decreasing recycling and sanitization times.