TOYOPEARL AF-Chelate-650M resin carries a chelating ligand, iminodiacetic acid (IDA), that can form stable chelate complexes with selected metal ions such as Cu2+, Ni2+, Zn2+ and Co2+. The resultant resin can be used for immobilized metal affinity chromatography (IMAC). It binds to histidine rich/histidine tagged proteins and to cysteine containing proteins.

TOYOPEARL AF-Red-650ML is functionalized with Procion Red HE-3B (also known as Reactive Red 120). This resin is useful for the purification of nucleotide-dependent enzymes, lipoproteins, plasminogen, peptides, hormones and cytotoxins.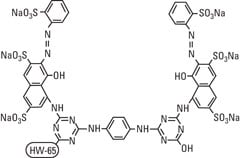 TOYOPEARL AF-Heparin HC-650M is a high capacity, affinity adsorbent with excellent chemical stability. The heparin ligand is a linear and highly sulfated glycosaminoglycan which has anti-coagulant properties.
Due to its polyanionic nature, heparin interacts with a wide range of biomolecules including plasma components, lipoprotein lipase, collagenase, and DNA polymerase. Immobilized heparin is widely used as an adsorbent in affinity chromatography for the purification of biological substances.