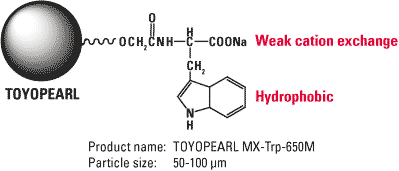 TOYOPEARL MX-Trp-650M is a high capacity mixed-mode resin. This resin uses tryptophan as the active ligand and is based on a hydroxylated polymethacrylic polymer bead. The amino acid tryptophan has both weak carboxyl cation exchange and indole hydrophobic functional groups. The selectivity of the resin can be adjusted through control of binding or elution pH, ionic strength, salt type and additives. This multi-modal resin maintains dynamic binding capacity (DBC) at elevated feedstock and buffer conductivities.
In addition to fast binding and elution kinetics (see figure), TOYOPEARL MX-Trp-650M minimizes the amount of WFI needed for either feedstock dilution during capture or column elution further downstream, leading to lower in-process pool volumes and higher throughput.
TOYOPEARL MX-Trp-650M maintains a high DBC even after extended CIP (clean in place) cycles using 0.5 mol/L NaOH, as demonstrated in the figure below.